If you are reading this, it will mean you are looking for a life insurance quote.

Well look no further because here at CheaperLifeCover.co.uk we specialise in life insurance cover.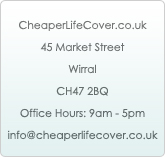 Not only is Life insurance the main thing that we do but we also offer heavy discounts to all our customers ensuring the best possible premiums available not only here on the internet but in the real world also.
All you have to do to carry out a free online life insurance quote is click on the Quote Me Now buttons on the top right and bottom left of any page. This will take you into our online quote engine and allow you to carry out as many online quotes as you require.

CheaperLifeCover.co.uk is a service provided by Invest & Protect Ltd. Invest & Protect Ltd is authorised and regulated by the Financial
Conduct Authority (FCA) under reference number 439830.
The Financial Conduct Authority does not regulate all the products and services we offer.
For more information on Invest & Protect Ltd and the services they offer such as Independent financial advice please visit Investandprotect.co.uk